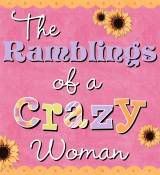 Here are some projects that we worked on this week.  I got the idea from another website but I forget which one.  Sorry!  Let me know if it's yours.  I cut out a lot of different size hearts from all different colored paper.  I also had glitter, heart stickers, and pipe cleaners on the table for them to use. Then I let the girls create whatever they could come up with.  They loved this project and wanted to continue to work on it for about an hour. 
Emily with her ladybug.  She is obsessed with them.
Ashlyn with her mouse creation.
Some of our heart creations. 
Head on over to Ramblings of a Crazy Woman to see lots of other cute craft ideas.